"Come and Get It!" By Corinne Joy Brown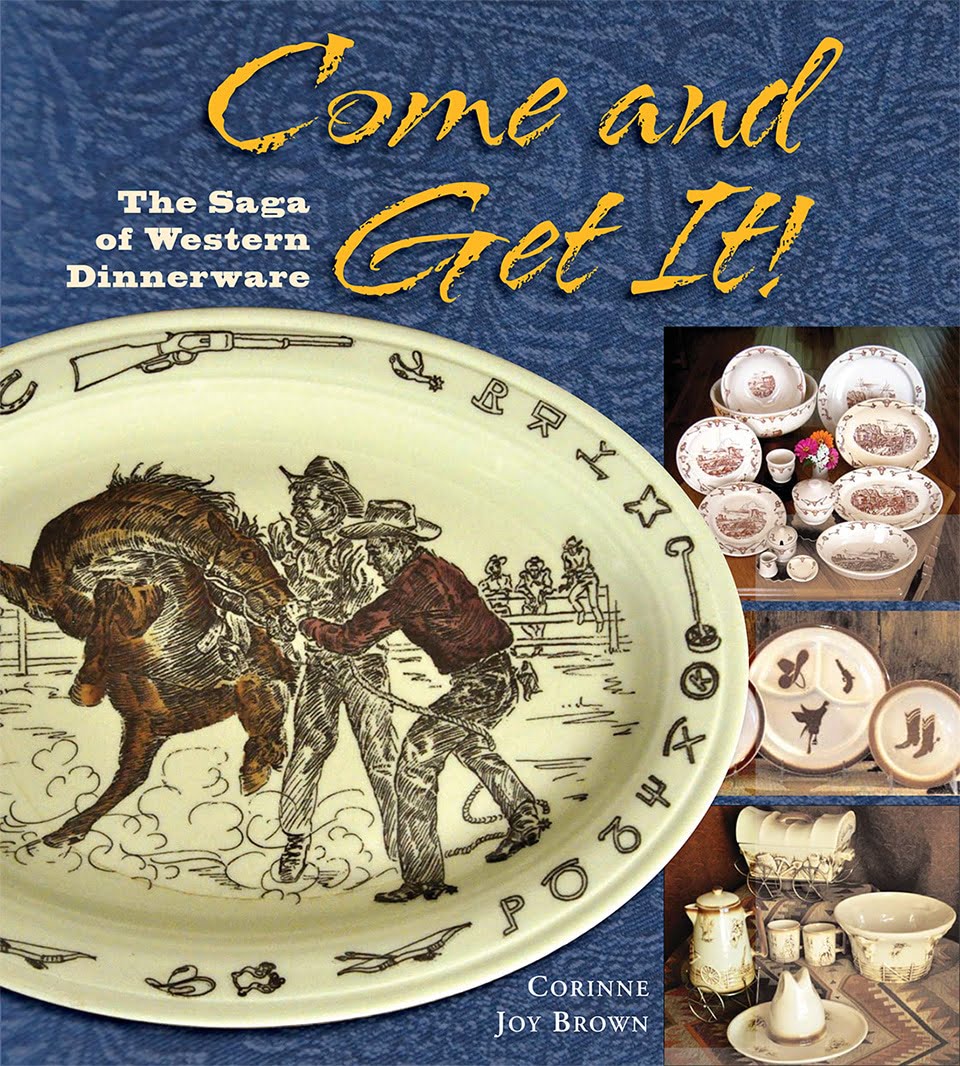 $20.95 (plus $4 shipping)
Secure payments via PayPal
Note: All out-of-state orders are automatically charged Denver tax but this amount will be refunded afterwards off your charge.


"Come and Get It! The Saga of Western Dinnerware"
An acclaimed history of a unique genre of Western pop-culture, discover how the history of the American West has been told on a dinner plate. Organized by theme and chronology, each chapter reveals producers and brands, plus master works of art and design found on stoneware and porcelain – everyday artwork for every man, once as accessible as the hardware store. A coffee table book for anyone who remembers the "Golden Age" of TV and Hollywood westerns and the wealth of accessories that followed. Replete with hundreds of color and black and white photos, many examples from the author's own collection. Soft-cover edition only.
Softcover ISBN 978-1-55566-439-8
Size: 9″ x 10″
"In 'Come and Get It!', Corinne Joy Brown deftly positions the beauty and charm of western-themed dinnerware within the context of American popular culture and cowboy history…
Come and Get It! has no competition; it's one of a kind. Collectors will find invaluable information; fans of cowboy culture will be hugely entertained and enlightened."
– Richard W. Slatta, PhD, "The Cowboy Professor"
"Corinne Joy Brown's new book will become the bible for serious collectors as well as a fabulous introduction for western lifestyle enthusiasts and those who love all things western. It's also a feast for the eyes–a beautiful book that will be a favorite in western homes as well as a fun, delightful read."
– Paul Andrew Hutton, Distinguished Professor of History, University of New Mexico & Past Executive Director of Western Writers of America and an award-winning writer and biographer.
"Corinne Brown shows us that Western-themed dinnerware-usually regarded as mere kitsch-represents a valuable chapter in the history of American visual culture and its role in the formation of national identity."
– Elissa Auther, Associate Professor of Contemporary Art, University of Colorado & Author of "String, Felt, Thread: The Hierarchy of Art and Craft in American Art" (University of Minnesota, 2010).
"The tiny spark I ignited when I first asked Corinne Joy Brown to write about Western dinnerware for our 2008 March/April issue has blossomed into an everlasting flame with Come and Get It. Her loving, descriptive prose and elegantly styled photographs turn this rigorously researched historical record into a joyous romp through America's most beloved icons, with her passion for the West illuminating every page. Says Brown, "If I've been successful, you'll never look at your cowboy dinnerware the same way again." Says I, most heartily, "you have."
– Susan L. Ebert, Associate Publisher & Editor, Western & English Today magazine
"Corinne has done more than create a chronology of Western themed dinnerware. This book links the reality and the myth of our Western heritage with our own personal history. I remember how my mother loved western themed Frankoma pottery. We ate on those plates for years.But, more than that, the layout of the book is wonderful, the pictures are delightful and Corinne's writing is engaging. This book could well spark a flame in the hearts of collectors everywhere as well as bring a warm glow to fans of all things western."
– Jeff Hildebrandt, Director, On Air Promotion, Encore Westerns Channel
"At the heart of every ranch is the dinner table. It's where bleary-eyed cowboys and cowgirls slide into place on benches for a 3 o'clock breakfast to beat the summer heat, and later that evening, where they gather to tell tales of their adventures during the day's circle. It's a place where Thanksgiving is celebrated, birthday candles are blown out, and mail is thumbed through. The aroma of fresh coffee, biscuits, fried steaks, pie and homemade bread teases you, and the anticipation of another home-cooked feast lifts your spirits.
Ranch cooks enjoy a celebrity status of sorts, evident in the universally-understood Number One rule of cowboyin'; "Don't upset the cook". The meals created by their talented hands would rate 5 Stars on the nail every time if a restaurant critic would risk the 50 miles of gravel road to come taste it. Such delectable creations deserve nothing less than spectacular works of dinnerware art for their presentation. Look no further than the pages of this book to get a glimpse of the very best from today and yesteryear. Come and Get It author Corinne Brown serves up a feast of tantalizingly accurate photography, history, stories and tidbits worthy its own Smithsonian wing on Western Culture. Destined to be a collector's classic, this book's rightful place is … you guessed it … smack dab on the dinner table for all to enjoy."
– Tim O'Byrne, Editor, Working Ranch magazine
"For the past decade, I've been writing about what I call the "Cowboy Renaissance," a revival of interest in all aspects of the nation's cowboy and ranching heritage. I've looked at how we research cowboy history (Comparing Cowboys and Frontiers, 2001), The Mythical West (2001), Cowboy: The Illustrated History (2006), and most recently the cultural and social history of the National Cowboy Symposium & Celebration (2010) in Lubbock, Texas. How delightful, then, to have Corinne Joy Brown introduce me to something I knew nothing about. As she notes, "the last two decades saw the renaissance of Western-themed china," and she has wonderfully documented the history and varieties of this unique dinnerware.
Collector or not, you'll quickly be drawn into this fascinating topic. As a social historian, I am intensely interested in everyday life and everyday activities. Thus I find the story of this mass-market dinnerware far more engrossing than looking at silver and jeweled items used by European royalty.
Brown's no-nonsense criteria for what to include also appeals to me. "I asked myself if the maker was attempting a new interpretation in the spirit of the time," she writes,"or evoking an old idea in a new way. As a result, I've selected those examples that seemed chronologically significant, aesthetically pleasing, and well made." Thus whatever theme or motif one associates with the Old West, you're likely to find it represented in this engrossing collection of dinnerware."
– Richard W. Slatta, PhD, "The Cowboy Professor"