Denver-Based Author, Speaker & Freelance Writer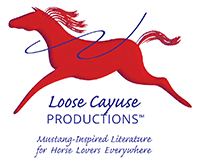 We're proud to introduce you to Loose Cayuse Productions, a new publishing entity by Corinne Joy Brown and illustrator Ginny McDonald. Our 2020 titles include Finding Home  & Awesome Arts Activities.
Book Titles From Corinne Joy Brown
Finding Home
For every girl or boy who owns a horse, or wished they did, "Finding Home" brings all the drama and beauty of America's wild horses to the middle grade reader. A coming-of-age story and a tale about friendship, trust and understanding, both horse and owner have powerful lessons to learn.
Why Not Them?

When Lloyd Lewis learned that his fourth child was born with Down Syndrome, he never doubted that his little boy would grow into a fine human being with all the love and opportunities every child has a right to. If he couldn't change young Kennedy's condition, he would change the world Kennedy was born into.
Hidden Star

Imagine awakening to a new reality of who you are, revealing a hidden past that has shaped your family's history for centuries. Meet a modern day member of New Mexico's northern Hispanic settlements who finds a new truth about herself and her family in the unexpected tumult of her life.